Save time, increase productivity
Service
Global Designs offers custom application development and full life-cycle design for a range of platforms, architectures, technologies and devices. Our cross-industry expertise and better understanding of business processes benefits our client's needs of highly customized products and services. With a talented pool of onshore and offshore project managers, business analysts, architects, developers, UX/UI designers &quality assurance experts, Global Desgin helps you with all your application development needs.
MICROSOFT
C#.Net Web Development
Asp .net MVC
Services Offered
Web Design & Application Development
Product Development
Porting and Migration
Client -Server Applications
Enterprise level Application Development
Consulting, Support and Maintenance
QA testing services
MOBILE APPS
Services Offered
Business applications
Multimedia applications
Internet applications
Travel applications
Utility applications
Education applications
Communication applications
Games and puzzles applications
PHP
Services Offered
Web Application Development
Product Development
Porting and Migration
Content Management System
Consulting, Support and Maintenance
QA testing services
Magento
Services Offered
Custom Magento Theme Development
Custom Magento Extension Development
Magento Management and Consulting
Magento Site Upgrades
Integrate Shopping Carts
Integrate Payment Gateway
Wordpress
Services Offered
Theme Development
Module Development
Plug-in Development
E-commerce Solutions
Mobile Application Development
Content Management System
Maintenance Package
Drupal
Services Offered
Website, portals & blogs
Networking forums
E-commerce applications
Corporate intranet websites & applications
Content Management systems
Drupal Consulting & Integration
Osaka Mobile App
Osaka Mobile App is a Japanese Restaurant app situated in Shaab, Kuwait. You can download the application in Kuwait from Android and IOS store named "Osaka Q8"
Business Needs :
1. Design & Develop the portal which will be universally responsive and web panel is compatible to all browsers.
2. Implementation & Configuration of Content Management System.
3. Develop dynamic custom modules that will cover PORTAL requirements.
4. Develop Mobile Application which will be supported on iOS and Android platforms.
Technology :
Front end : Android and iOS App
Back end : WCF .Net Web services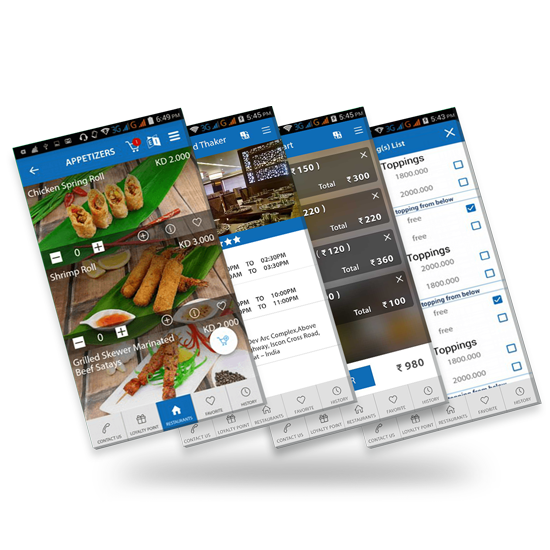 Wajabaty
Client required a one stop foodie solution in form of web, mobile app and Food Directory to help foodies enjoy and share the story of each meal.
Business Needs :
1. Users do not even need to search, just tap on our innovative hash tag search to get food in your mind on the table.
2. Know about the new introduced dishes in Kuwait Restaurants, the newly opened Restaurants in Kuwait, upcoming food events, discounts and offers on food and a lot more!
3. Be it booking a table of your choice in restaurants of kuwait, or pre ordering food for pick up, and the most exciting Foodwall, you have all what you could think of as a foodie soul in just one Wajabaty application and website.
4. For more details, visit our product site: www.wajabaty.com
Technology :
Front end : Android and iOS App
Back end : MVC .net
Khadamaty
Client required a local services hiring app In Lebanon to simplify everyday living. Users can hire a wide range of professionals like electrician, plumbers, home cleaners, carpenters, pest control etc.
Business Needs :
1. Location identification technology based on Google Maps would identify the location of user as well as service provider that would help users to select the appropriate provider serving in their geography at preferred time.
2. On demand app would not only serve the location but enables a communication between customer and vendor to insure the smooth service delivery.
Technology :
.NET, MySql, Android, iOS, HTML5, CSS3, jQuery, WCF Services